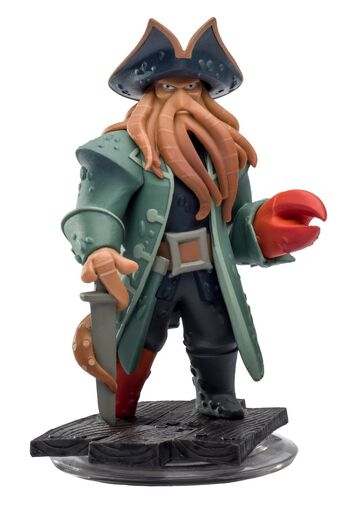 General Information
Edit
Description
Edit
Davy Jones is the captain of the Flyingin Dutchman in Pirates of the Caribbean. He is the enemy of Jack Sparrow and Hector Barbossa.
He wears a dark blue hat, a green jacket and one black boot. His left hand is a red crowbar and his right foot is a leg of huge crab whereas his left hand assimilates to an octopus' one and his beard is made by tentacles.
He is very irritable and very dangerous. Paradoxically he speaks and thinks in a quiet and composed way.
To attack, he can use his sabre or fire with his stone gun. He defends himself with his sabre and moves relatively fast.
Appearances
Edit
[2.0]: Toy Store > Disney Infinity [1.0] > Characters' toys
[3.0]: ?