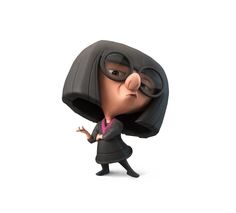 General information
Edit
Universe: The Incredibles
Play Set: The Incredibles
Edition(s): [1.0] [2.0] [3.0]
Voice: Kevin Delaney
Species: Human
Sex: Female
[1.0]: The Incredibles Play Set
[2.0]: Toy Store > Disney Infinity [1.0] > Characters' toys
[3.0]: ?
[1.0]: /
[2.0]: Toy Store > Toy Box > Toy Box Townspeople
[3.0]: ?
Description
Edit
Edna Mode is a famous needlewoman of Metroville. She works in the Agency of Super-heroes in service.
She is small and she has a big nose and a crumpled skin. She wears black glasses.
She is rather direct and doesn't hesitate to call a person that she knows hardly "Darling".
Appearances
Edit
The Incredibles Play Set : Edna Mode gives at first missions to the Incredibles by walkie-talkie before joining Metroville by helicopter. Then she distributes missions since the New Agency of the Super-heroes in service, where she asks in particular for the reconstruction of her workroom.