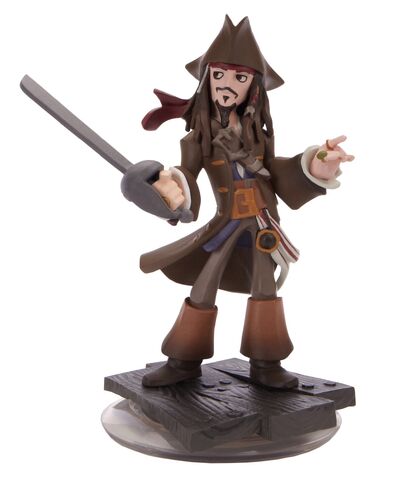 General Information
Edit
Description
Edit
Jack Sparrow is a pirate captain of Pirates of the Caribbean. He manages the Black Pearl, helped by Mr. Gibbs. Pintel and Ragetti are two Members of his equipage whereas Hector Barbossa is his former second mate. Tia Dalma is one of its multiple loving conquests.
He wears a hat, a brown jacket and wood-colored shoes. He possesses a grey sabre and several rings in fingers. His hair are similar to dreadlocks and he has a small black mustache.
He is rather opportunist and cowardly. He is also very flirty and unscrupulous.
To attack, he can use his sabre or fire with his stone gun. He defends himself with his sabre and moves relatively fast.
Appearances
Edit
[2.0]: Toy Store > Disney Infinity [1.0] > Characters' toys
[3.0]: ?