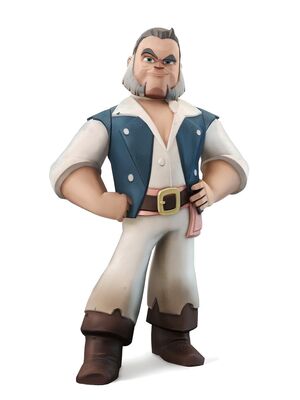 General information
Edit
Universe: Pirates of the Caribbean
Play Set: Pirates of the Caribbean
Edition(s): [1.0] [2.0] [3.0]
Voice: Kevin McNally
Species: Human
Sex: Male
[1.0]: Pirates of the Caribbean Play Set
[2.0]: Toy Store > Disney Infinity [1.0] > Characters' toys
[3.0]: ?
[1.0]: /
[2.0]: Toy Store > Toy Box > Toy Box Townspeople
[3.0]: ?
Description
Edit
Joshamee Gibbs aka Mr. Gibbs is Captain Jack Sparrow's second. He's very serious and would never betray his captain.
He wears a blue jacket, a white shirt, used pants, boots and a brown belt.
He is grey-haired, he has a grey beard, an impressive chin and thick eyebrows.
Appearances
Edit
Pirates of the Caribbean Play Set : Mr. Gibbs is imprisoned at first on Buccaneer Bay. After having freed him, he remains permanently on the boat of the Captain, and guides him during his journeys at sea.