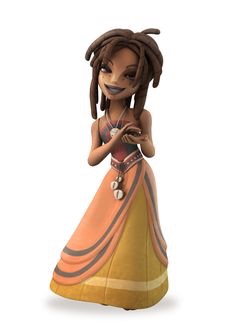 General information
Edit
Universe: Pirates of the Caribbean
Play Set: Pirates of the Caribbean
Edition(s): [1.0] [2.0] [3.0]
Voice: Julianne Buescher
Species: Human
Sex: Female
[1.0]: Pirates of the Caribbean Play Set
[2.0]: Toy Store > Disney Infinity [1.0] > Characters' toys
[3.0]: ?
[1.0]: /
[2.0]: /
[3.0]: /
Description
Edit
Tia Dalma is a voodoo witch who lives in the Pantano Bayou. She is the human shape of Calypso, and the ex-woman of Davy Jones.
She wears a long yellow and orange dress, a red and black longline bra and two pendants.
Her hair are similar to dreadlocks and she has some tasks of redness on cheeks.
Appearances
Edit